China Factory Directly Supply Best Price Complete Line 1t Per Hour Wood Pellet Pelletizer Machine to Make Wood Pellets
Raw material
Biomass feedstock for solid biofuels can be catagorized into forestry, agriculture and waste-based materials. and they can be subdivided into primary sources(directlry producted materials) or secondary sources(derived from other process). The raw materials range from wood species,such as pine, spruce, beech,oak,poplar,aspen,salix, and fir, to agricultural residues, such as alfalfa,barely canola, oat, wheat,rice, soybean,rye, reed canary grass,corn stover corn cobs, switch grass, big bule stem, sugar cane bagasse, cotton, olive residues , and peanut hulls and also mixed residues.
How to press good quality wood pellets
The main process comprise chipping section, drying section, milling section, pelletizating section, cooling section and screening ,packaging section.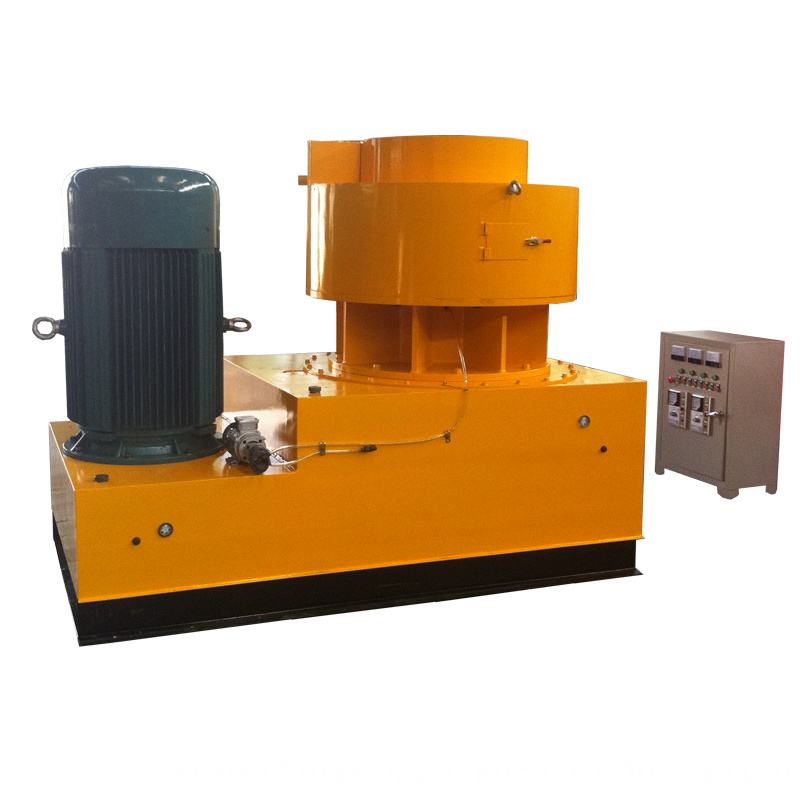 Process of Wood Pellets

Detail Information about Each Steps




Chipping Section

Size reduction . If the raw material is big size, such as log wood, wood branches,It must be reduced to a sufficiendt uniform size for the nexe step. a wood chipper is used .




Milling /Grinding Section

In milling , the raw material is ground to a grain sie equal to at least the diameter of the pellets However, the ground wood dust should not be fine, when there are no longer fibers that in part bind the pellets .Usually a hammer mill is used for grinding, when homogenous raw materials is obtained for compression.




Drying Section




A dryer is a good option to dry the raw material into suitable moisutre. To produce quality pellets the moisture percentage of the raw material will between 10-20%. Most materials produce the highest quality pellets with a moisutre percentage around 15%,however the percentage to produce quality pellets in specific to each raw materials. If the raw material has a moisture percentage about 15-20% ,it must be dried with a dryer .




Pelletizating Section

The pellets are compressed in flat-die or vertical ring die. No additives are normally used in the compression of wood pellets, but the pellets are bound by the cohesion of inner surfact, by fibrous parts of particels ,and primarily by adhension caused by lignin, that is soften by the heat of compression. The temperature of crushed wood material increase the pellets compressor and the natural binding material. Lignin, melts and binds the pellet when cooling.




Cooling and Screening Section

When the pellets leave the pellet mill, they are very hot, soft and releasing moisutre. Before the pellets can be used or stored they must first be left to cool and dry.

Cooling is very important stage of process. After compression the temperature of pellets is high, usually about 90 ℃,The moisture released in the compression stage is removed with heat from the product.Cooling stablities the pellets and hardens the lignin melt on the surfact of pellets, and hence the shape of pellets remains unchanged.

Screening is usually performed with a vibrating screen to secure a homogeneous product than does not cause problesm in conveyors and combusting equipments.




Packaging Section

The pellets are conveyed to a storeroom or put into big or small bags for transports to consumers.



XB Wood Pellt Line Customers Case
Bulgaria 5-6Ton/h Straw Wood Pellet Production Line
Thailand 4 Sets YGKJ 560 Wood Pellet Production Line
Asia 10-12Ton/h Wood Pellet Production Line
4 Sets YGKJ 700 Wood Pellet Production Line with capacity 6-8 ton/h



What do you need to prepare for set up a wood pellet Production Line
1.Factory
You need to have a factory with enough area to set up the pellet line , to store your raw material and your finished pellets.
2.Raw Material
You should you what kind of your raw material, forest woody ,agricuture or other residues.
You need to offer thest information to the pellet production suppliers, The size of your raw material, the moisture, the capacity you want.
3.Staff
When you begin to set up a pellet line , you need to know how many staff do you need for this complete wood pellet production line.
4.Transformer
You need to have a big transformer to offer enough power for this wood pellet production line.
What do you need to know before start a wood pellet production line
1.Price
What is the price of your raw material, how did you get your raw material?
What is the price of your finished pellets?
When do you want to sell them?
How to know the quality of your finished pellets?
How to control the quality of your pellets during press?
2.Market
Which market is populare of your finished pellets?
What is the target price of pellets?
Do you want to sell your pellets to Korean or other countries?
Maybe you are concerned about the question:
1. What is the whole process for press wood pellets ?
The whole process of press wood pellet depends on the size and moisture of your raw material.For exmaple, if your raw material is wood logs with diameter about 30cm, and the moisture is about 40%.You will need a whole complete wood pellet line.Including Chipping section-Gringding Section-Drying Section-Pelletizing Section-Cooling Section-Screening Section and Packaging Section.
2. What is the most suitable moisture for press pellets?
The most suitbale moisture for wood sawdust or wood shaving is 12-15%.If your raw material is higher than this moisutre, a dryer is need.
3. What is the suitbale size for press wood pellets?
The suitable size of wood sawdust or wood shaving should a little smaller than finished wood pellets.Of course, if the sawdust is too fine, it also not very good.
4. Is Cooling section necessary or not?
Yes, it is necessary. When the pellets leave the Pellet Machine , it is very hot, soft and releasing moisture. A cooling process is very important stage,Cooling stablities the pellets and hardens the lignin melt on the surface of pellets and hence the shape of pellets remains unchanged.
If you want a detail information about the wood pellet line , you need to offer us these information.
So we can make a more suitable line according to your requirments.
1.What is your raw material?The size of your raw material?
2.What is the moisutre of your raw material?
3. Target capacity do you need?
4.The size of your factory ?
Shandong qufu xingbang heavy industry equipment co., LTD will build a science and technology leading enterprise integrating research and development, manufacturing and installation, and international trade.
Main development and production of products are building materials equipment: automatic glass magnesium fire board production line, large multi-function wall board exterior wall Insulation Board Production Line , fire door core board production line of environmental protection and new energy straw making machine, fully automatic quadrilateral cutting saws;
Woodworking Machinery , automatic cover machine, labeling machine, automatic finishing machine, UV light solid machine, hot pressing machine, vacuum molding machine, cold press machine, universal coating machine, and other products, the above products have passed the relevant state departments of technical appraisal and recognition, has enjoyed good reputation in the market, obtained the customer consistent high praise.
The products produced by the company are sold to all over the country and some surrounding countries and have achieved high economic and social benefits.
Product Categories
Building Material Making Machinery
Compound Ventilation Tube Sheet Metal Production Line
Automatic Four Edge Cutting Saw
Large Fireproof Door Core Board Production Line
Fully Automatic New Compound Straw Tile Production Line
Fire Prevention Board Machine Straw Door Equipment
Fire Prevention Board Production Line
Polyurethane Low Pressure Foaming Machine
Polyurethane High Pressure Foaming Machine
Glass Magnesium Fire Prevention Board Plate Automatic Production Line
Glass Magnesium Fire Board Decorating Plate Production Line
Plastic Extrusion And Recovery Equipment
Plastic Extruder Machine
Plastic Pelletizing Recycling Machine
Sheet Plate Board Extrusion Line
Plastic Washing Recycling Machine
PVC WPC Profile Extrusion Line
Plastic Pipe Extrusion Line
Plastic Crusher & Granulator
Plastic Shredder
Plastic Auxiliary Machine
Woodworking Machinery
Wallboard Decorative Machine
Door Decorative Machine
Cabinet Decorative Machine
Floor Decroative Machine
Moulding Line Decroative Machine
Veneer Machine
Indoor Decroative Machine
Woodworking Wrapping Machine
Sawdust Granulator /Wood Pellet Granulator
Wood Door Vacuum Laminating Machine
Environmental Protection Equipment
Waste Gas Treatment Equipment.
Dust Removal Equipment
Plastic Injection Molding Machine
Plastic Injection Molding Machine
Plastic Blow Molding Machine




Looking for ideal Complete Line Wood Pellet Pelletizer Machine Manufacturer & supplier ? We have a wide selection at great prices to help you get creative. All the Machine to Make Wood Pellets are quality guaranteed. We are China Origin Factory of Wood Pellet Pelletizer Machine. If you have any question, please feel free to contact us.
Product Categories : Woodworking Machinery > Biomass Granulator